Descrizione del contenuto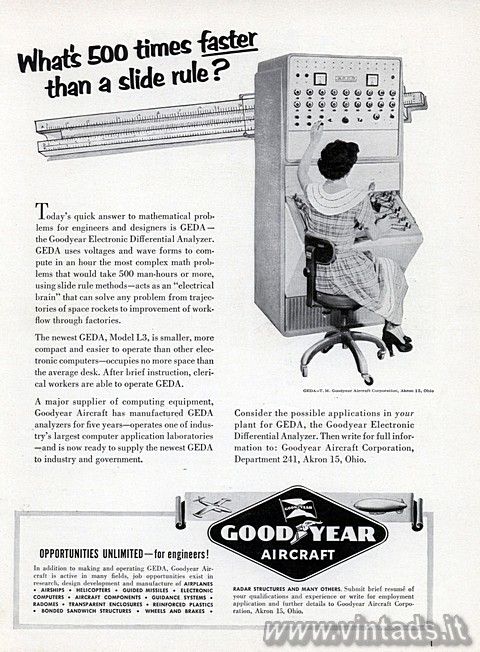 ---
Gradimento:





(0 voti)
---
Per scaricare questo contenuto devi fare login o registrarti
---
Commenti:
Non è presente alcun commento
Effettua il login per inserire un nuovo commento
Titolo:
What's 500 times faster than a sliderule?
---
Dimensione file:
1,6 MB (2440x3315 pixel)
---
Tipo del contenuto:
pagina di rivista o giornale
---
Fonte pubblicazione:
Scientific American
---
Data della fonte:
March 1953
---
Linguaggio:
en (English)
---
Marca del contenuto:
Goodyear Aircraft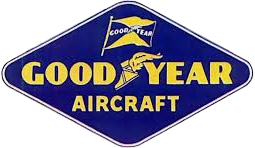 &nbsp
---
Caricato da:
Maverich
il 23-05-2020
---
Testo originale:
What's 500 times faster than a sliderule?
Today's quick answer to mathematical problems for engineers and designers is GEDA-the Goodyear Electronic Differential Analyzer. GEDA uses voltages and wave forms to compute in an hour the most complex math problems that would take 500 man-hours or more, using slide rule methods-acts as an "electrical brain" that can solve any problem from trajectories of space rockets to improvement of workflow through factories.
The newest GEDA, Model L3, is smaller, more compact and easier to operate than other electronic computers-occupies no more space than the average desk. After brief instruction, clerical workers are able to operate GEDA.
A major supplier of computing equipment, Goodyear Aircraft has manufactured GEDA analyzers for five years-operates one of industry's largest computer application laboratories-and is now ready to supply the newest GEDA to industry and government.
Consider the possible applications in your plant for GEDA, the Goodyear Electronic Differential Analyzer. Then write for full information to: Goodyear Aircraft Corporation, Department 241, Akron 15, Ohio.
OPPORTUNITIES UNLIMITED-for engineers!
In addition to making and operating GEDA, Goodyear Aircraft is active in many fields, job opportunities exist in research, design development and manufacture of AIRPLANES
- AIRSHIPS - HELICOPTERS - GUIDED MISSILES - ELECTRONIC COMPUTERS - AIRCRAFT COMPONENTS - GUIDANCE SYSTEMS - RADOMES - TRANSPARENT ENCLOSURES - REINFORCED PLASTICS - BONDED SANDWICH STRUCTURES - WHEELS AND BRAKES - RADAR STRUCTURES AND MANY OTHERS.
Submit brief resume of your qualifications and experience or write for employment application and further details to Goodyear Aircraft Corporation, Akron 15, Ohio.
GOODYEAR AIRCRAFT
---
Tag: