Descrizione del contenuto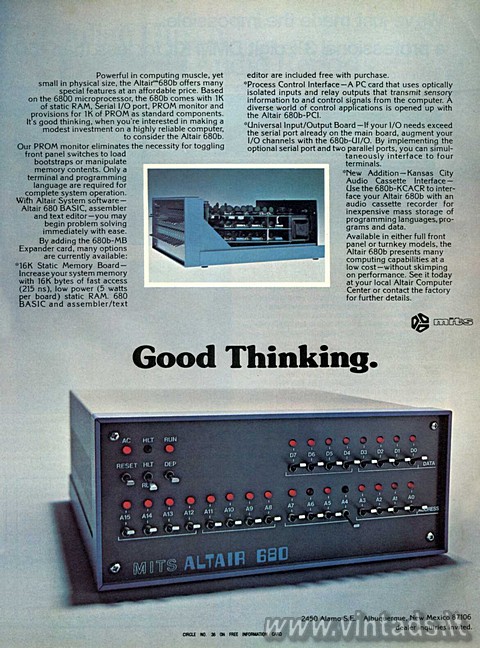 ---
Gradimento:





(0 voti)
---
Per scaricare questo contenuto devi fare login o registrarti
---
Commenti:
Non è presente alcun commento
Effettua il login per inserire un nuovo commento
Titolo:
Good Thinking.
---
Dimensione file:
185 KB (1171x1582 pixel)
---
Tipo del contenuto:
pagina di rivista o giornale
---
Fonte pubblicazione:
Popular Electronics
---
Data della fonte:
August 1977
---
Linguaggio:
en (English)
---
Marca del contenuto:
Mits

&nbsp
---
Caricato da:
Maverich
il 27-05-2020
---
Testo originale:
Good Thinking.
Powerful in computing muscle, yet small in physical size, the Altair 680b offers many special features at an affordable price. Based on the 6800 microprocessor, the 680b comes with 1K of static RAM, Serial I/O port, PROM monitor and provisions for 16 of PROM as standard components. Its good thinking, when you're Interested in making a modest investment on a highly reliable computer, to consider the Altair 680b.
Our PROM monitor eliminates the necessity for toggling front panel switches to load bootstraps or manipulate memory contents. Only a terminal and programming language are required for complete system operation. With Altair System software—Altair 680 BASIC, assembler and text editor—you may begin problem solving immediately with ease. By adding the 680b-MB Expander card, many options are currently available:
- 16K Static Memory Board—Increase your system memory with 16K bytes of fast access (215 ns), low power (5 watts per board) static RAM. 680 BASIC and assembler/text editor are included free with purchase.
- Process Control Interface—A PC card that uses optically isolated inputs and relay outputs that transmit sensory information to and control signals from the computer. A diverse world of control applications is opened up with the Altair 680b-PCI.
- Universal Input/Output Board—If your I/O needs exceed the serial port already on the main board, augment your I/O channels with the 680b-UI/O. By implementing the optional serial portend two parallel ports, you can simultaneously interface to four terminals.
- New Addition—Kansas City Audio Cassette Interface—Use the 680b-KCACR to interface your Altair 680b with an audio cassette recorder for inexpensive mass storage of programming languages, programs and data.
Available in either Full front panel or turnkey models, the Altair 680b presents many computing capabilities at a low cost—without skimping on performance. See it today at your local Altair Computer Center or contact the factory for further details.
MITS
2450 Alamo S.E. Albuquerque, New Mexico 87106
---
Tag: