Descrizione del contenuto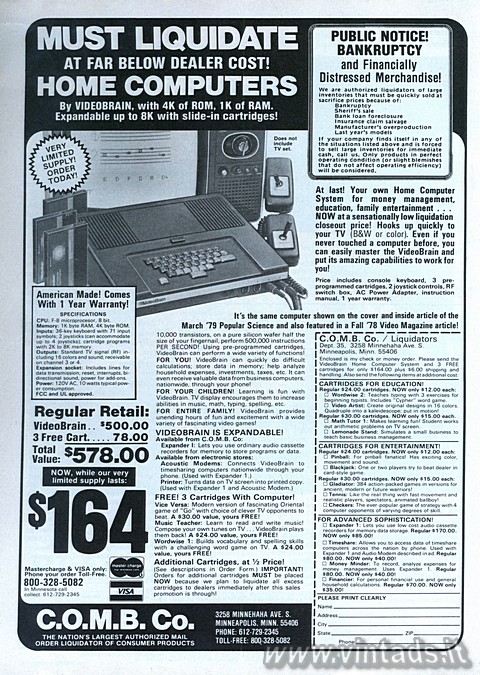 ---
Gradimento:





(0 voti)
---
Per scaricare questo contenuto devi fare login o registrarti
---
Commenti:
Non è presente alcun commento
Effettua il login per inserire un nuovo commento
Titolo:
Home computers – must liquidate
---
Dimensione file:
1,8 MB (2274x3200 pixel)
---
Tipo del contenuto:
pagina di rivista o giornale
---
Fonte pubblicazione:
Popular Science
---
Data della fonte:
November 1979
---
Linguaggio:
en (English)
---
Marca del contenuto:
Umtech
&nbsp
---
Caricato da:
Maverich
il 15-06-2020
---
Testo originale:
HOME COMPUTERS – MUST LIQUIDATE AT FAR BELOW DEALER COST!
By VIDEOBRAIN, with 4K of ROM, IK of RAM. Expandable up to 8K with slide-in cartridges!
At last! Your own Home Computer System for money management education, family entertainment… NOW at a sensationally low liquidation closeout price! Hooks up quickly to your TV (B&W or color). Even if you never touched a computer before, you can easily master the VideoBrain and put its amazing capabilities to work for you!
Price includes console keyboard, 3 preprogrammed cartridges, 2 joystick controls, RF switch box, AC Power Adapter, instruction manual, 1 year warranty.
Regular Retail:
VideoBrain.. $500.00
3 Free Cart….78.00
Total Value: $578.00
NOW, while our very limited supply lasts: $164
It's the same computer shown on the cover and inside article of the March 79 Popular Science and also featured in a Fall 78 Video Magazine article!
10,000 transistors, on a pure silicon wafer half the size of your fingernail, perform 500,000 instructions PER SECOND! Using pre-programmed cartridges, VideoBrain can perform a wide variety of functions!
FOR YOU! VideoBrain can quickly do difficult calculations; store data in memory; help analyze household expenses, investments, taxes, etc. It can even receive valuable data from business computers, nationwide, through your phone!
FOR YOUR CHILDREN! Learning is fun with VideoBrain. TV display encourages them to increase abilities in music, math, typing, spelling, etc.
FOR ENTIRE FAMILY! VideoBrain provides unending hours of fun and excitement with a wide variety of fascinating video games!
VIDEOBRAIN IS EXPANDABLE!
Available from C.O.M.B. Co:
Expander I: Lets you use ordinary audio cassette recorders for memory to store programs or data.
Available from electronic stores:
Acoustic Modems: Connects VideoBrain to timesharing computers nationwide through your phone. (Used with Expander 1.)
Printer: Turns data on TV screen into printed copy. (Used with Expander 1 and Acoustic Modem.)
FREE! 3 Cartridges With Computer!
Vice Versa: Modern version of fascinating Oriental game of "Go" with choice of clever TV opponents to beat. A $30.00 value, yours FREE!
Music Teacher: Learn to read and write music! Compose your own tunes on TV . . . VideoBrain plays them back! A $24.00 value, yours FREE!
Wordwise 1: Builds vocabulary and spelling skills with a challenging word game on TV. A $24.00 value, yours FREE!
Additional Cartridges, at 1/2 Price!
(See descriptions in Order Form.) IMPORTANT! Orders for additional cartridges MUST be placed NOW because we plan to liquidate all excess cartridges to dealers immediately after this sales promotion is through!
SPECIFICATIONS
CPU: F-8 microprocessor, 8 bit.
Memory: 1K byte RAM. 4K byte ROM.
Inputs: 36-key keyboard with 71 input symbols; 2 joysticks (can accommodate up to 4 joysticks); cartridge programs with 2K to 8K memory.
Outputs: Standard TV signal (RF) including 16 colors and sound; receivable on channel 3 or 4.
Expansion socket: Includes lines for data transmission, reset, interrupts, bidirectional sound, power for add-ons.
Power: 120V AC, 10 watts typical power consumption.
FCC and UL approved.
C.O.M.B. Co. / Liquidators.
Dept. 35, 3258 Minnehaha Ave. S. Minneapolis, Minn. 55406
Enclosed is my check or money order. Please send the VideoBrain Home Computer System and 3 FREE cartridges for only $164.00 plus $6.00 shipping and handling. Also send the following items at additional cost:
CARTRIDGES FOR EDUCATION!
Regular $24.00 cartridges. NOW only $12.00 each: Wordwise 2: Teaches typing with 3 exercises for beginning typists. Includes "Cypher" word game.
Video Artist: Create original designs in 16 colors. Quadruple into a kaleidescope; put in motion!
Regular $30.00 cartridges. NOW only $15.00 each.
Math Tutor 1: Makes learning fun! Student works out arithmetic problems on TV screen.
Lemonade Stand: Simulates a small business to teach basic business management.
CARTRIDGES FOR ENTERTAINMENT!
Regular $24.00 cartridges. NOW only $12.00 each.
Pinball: For pinball fanatics! Has exciting color, movement and sound.
Blackjack: One or two players try to beat dealer in card-style game.
Regular $30.00 cartridges. NOW only $15.00 each.
Gladiator: 384 action-packed games in versions for ancient, modern or future warriors!
Tennis: Like the real thing with fast movement and realistic players, spectators, animated ballboy!
Checkers: The ever-popular game of strategy with 4 computer opponents of varying degrees of skill.
FOR ADVANCED SOPHISTICATION!
Expander 1: Lets you use low cost audio cassette recorders for memory data storage. Regular $ 170.00. NOW only $85.00!
Timeshare: Allows you to access data of timeshare computers across the nation by phone. Used with Expander 1 and Audio Modem described in ad. Regular $80.00. NOW only $40.00!
Money Minder: To record, analyze expenses for money management. Uses Expander 1. Regular $80.00. NOW only $40.00!
Financier: For personal financial use and general household calculations. Regular $70.00. NOW only $35.00!
Mastercharge & VISA only; Phone your order Toll-Free.
800-328-5082
In Minnesota call collect: 612-729-2345
C.O.M.B. Co.
THE NATION'S LARGEST AUTHORIZED MAIL ORDER LIQUIDATOR OF CONSUMER PRODUCTS
3258 MINNEHAHA AVE. S. MINNEAPOLIS. MINN. 55406 PHONE: 612-729-2345 TOLL-FREE: 800-328-5082
PUBLIC NOTICE! BANKRUPTCY and Financially Distressed Merchandise!
We are authorized liquidators of large inventories that must be quickly sold at sacrifice prices because of: Bankruptcy Sheriff's sale Bank loan foreclosure Insurance claim salvage Manufacturer's overproduction Last year's models
If your company finds itself in any of the situations listed above and is forced to sell large inventories for immediate cash, call us. Only products in perfect operating condition (or slight blemishes that do not affect operating efficiency) will be considered.
American Made! Comes With 1 Year Warranty!
---
Tag: