Descrizione del contenuto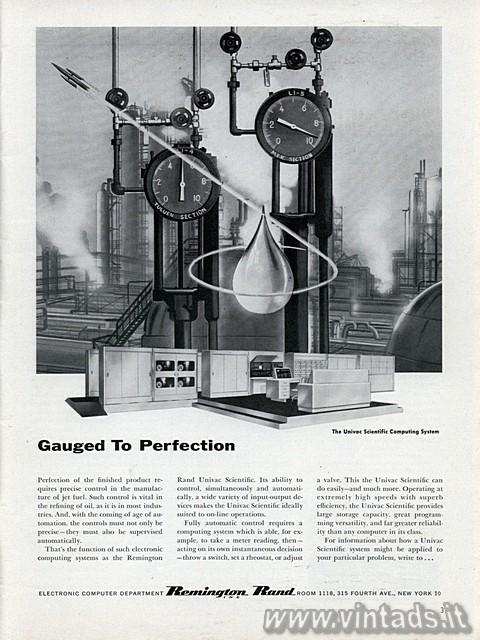 ---
Gradimento:





(0 voti)
---
Per scaricare questo contenuto devi fare login o registrarti
---
Commenti:
Non è presente alcun commento
Effettua il login per inserire un nuovo commento
Titolo:
Gauged To Perfection
---
Dimensione file:
1,7 MB (2537x3384 pixel)
---
Tipo del contenuto:
pagina di rivista o giornale
---
Fonte pubblicazione:
Scientific American
---
Data della fonte:
January 1955
---
Linguaggio:
en (English)
---
Marca del contenuto:
Univac
,
Remington Rand

&nbsp

&nbsp
---
Caricato da:
Maverich
il 15-06-2020
---
Testo originale:
Gauged To Perfection
The UNIVAC scientific computing system
Perfection of the finished product requires precise control in the manufacture of jet fuel. Such control is vital in the refining of oil, as it is in most industries. And, with the coming of age of automation, the controls must not only be precise - they must also be supervised automatically.
That's the function of such electronic computing systems as the Remington Rand Univac Scientific. Its ability to control, simultaneously and automatically, a wide variety of input-output devices makes the Univac Scientific ideally suited to on-line operations.
Fully automatic control requires a computing system which is able, for example, to take a meter reading, then — acting on its own instantaneous decision - throw a switch, set a rheostat, or adjust a valve. This the Univac Scientific can do easily - and much more. Operating at extremely high speeds with superb efficiency, the Univac Scientific provides large storage capacity, great programming versatility, and far greater reliability than am computer in its class.
For information about how a Univac Scientific system might be applied to your particular problem, write to…
Remington Rand Inc.
ELECTRONIC COMPUTER DEPARTMENT
ROOM 1118. 315 FOURTH AVE., NEW YORK 10
---
Tag: