Descrizione del contenuto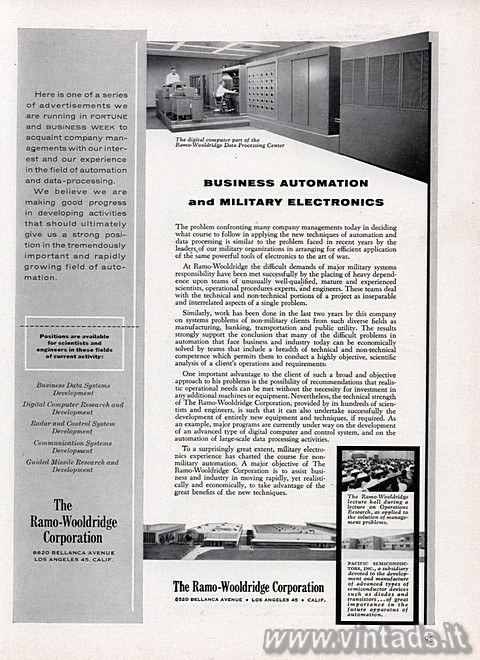 ---
Gradimento:





(1 voti)
---
Per scaricare questo contenuto devi fare login o registrarti
---
Commenti:
Non è presente alcun commento
Effettua il login per inserire un nuovo commento
Titolo:
BUSINESS AUTOMATION and MILITARY ELECTRONICS
---
Dimensione file:
1,7 MB (2413x3320 pixel)
---
Tipo del contenuto:
pagina di rivista o giornale
---
Fonte pubblicazione:
Scientific American
---
Data della fonte:
January 1956
---
Linguaggio:
en (English)
---
Marca del contenuto:
Ramo-wooldridge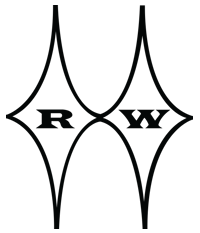 &nbsp
---
Caricato da:
Maverich
il 30-06-2020
---
Testo originale:
BUSINESS AUTOMATION and MILITARY ELECTRONICS
(The digital computer part of the Ramo-Wooldridge Data Processing Center)
The problem confronting many company managements today in deciding what course to follow in applying the new techniques of automation and data processing is similar to the problem faced in recent years by the leaders of our military organizations in arranging for efficient application of the same powerful tools of electronics to the art of war.
At Ramo-Wooldridge the difficult demands of major military systems responsibility have been met successfully by the placing of heavy dependence upon teams of unusually well-qualified, mature and experienced scientists, operational procedures experts, and engineers. These teams deal with the technical and non-technical portions of a project as inseparable and interrelated aspects of a single problem.
Similarly, work has been done in the last two years by this company on systems problems of non-military clients from such diverse fields as manufacturing, banking, transportation and public utility. The results strongly support the conclusion that many of the difficult problems in automation that face business and industry today can be economically solved by teams that include a breadth of technical and non-technical competence which permits them to conduct a highly objective, scientific analysis of a client's operations and requirements:
One important advantage to the client of such a broad and objective approach to his problems is the possibility of recommendations that realistic operational needs can be met without the necessity for investment in any additional machines or equipment. Nevertheless, the technical strength of The Ramo-Wooldridge Corporation, provided by its hundreds of scientists and engineers, is such that it can also undertake successfully the development of entirely new equipment and techniques, if required. As an example, major programs are currently under way on the development of an advanced type of digital computer and control system, and on the automation of large-scale data processing activities.
To a surprisingly great extent, military electronics experience has charted the course for non-military automation. A major objective of The Ramo-Wooldridge Corporation is to assist business and industry in moving rapidly, yet realistically and economically, to take advantage of the great benefits of the new techniques.
The Ramo-Wooldridge Corporation
6820 BELLANCA AVENUE - LOS ANGELES 45 - CALIF.
(Here is one of a series of advertisements we are running in FORTUNE and BUSINESS WEEK to acquaint company managements with our interest and our experience in the field of automation and data-processing. We believe we are making good progress in developing activities that should ultimately give us a strong position in the tremendously important and rapidly growing field of automation.
Positions are available for scientists and engineers in these fields of current activity:
Business Data Systems Development
Digital Computer Research and Development
Radar and Control System Development
Communication Systems Development
Guided Missile Research and Development
The Ramo –Wooldridge Corporation
8820 8ELLANCA AVENUE
LOS ANGELES 45, CALIF.
The Ramo-Wooldridge lecture hall during a lecture on Operations Research, as applied to the solution of management problems.
PACIFIC SEMICONDUCTORS, INC., a subsidiary devoted to the development and manufacture of advanced types of semiconductor devices such as diodes and transistors ... of great importance in the future apparatus of automation.)
---
Tag: