Descrizione del contenuto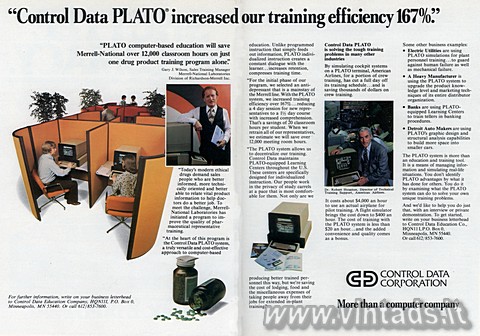 ---
Gradimento:





(0 voti)
---
Per scaricare questo contenuto devi fare login o registrarti
---
Commenti:
Non è presente alcun commento
Effettua il login per inserire un nuovo commento
Titolo:
Control Data PLATO increased our efficency
---
Dimensione file:
2,8 MB (4573x3204 pixel)
---
Tipo del contenuto:
pagina di rivista o giornale
---
Fonte pubblicazione:
Scientific American
---
Data della fonte:
July 1978
---
Linguaggio:
en (English)
---
Marca del contenuto:
Control Data

&nbsp
---
Caricato da:
Maverich
il 30-06-2020
---
Testo originale:
"Control Data PLATO increased our training efficency 167%"
"PLATO computer-based education will save Merrell-National over 12,000 classroom hours on just one drug product training program alone."
Gary J. Wilson, Sales Training Manager Merrell-National Laboratories Division of Richardson-Merrell Inc.
"Today's modern ethical drugs demand sales people who are better informed, more technically oriented and better able to relate vital product information to help doctors do a better job. To meet the challenge, Merrell-National Laboratories has initiated a program to improve the quality of pharmaceutical representative training.
"At the heart of this program is the Control Data PLATO system, a truly versatile and cost-effective approach to computer-based education. Unlike programmed instruction that simply feeds out information, PLATO individualized instruction creates a constant dialogue with the learner… increases retention, compresses training time.
"For the initial phase of our program, we selected an antidepressant that is a mainstay of the Merrell line. With the PLATO system, we increased training efficiency over 167%…reducing a 4 day session for new representatives to a 1-1/2 day course with increased comprehension. That's a savings of 20 classroom hours per student. When we retrain all of our representatives, we estimate we will save over 12,000 meeting room hours.
"The PLATO system allows us to decentralize our training. Control Data maintains PLATO-equipped Learning Centers throughout the U.S. These centers are specifically designed for individualized instruction. Our people work in the privacy of study carrels at a pace that is most comfortable for them. Not only are we producing better trained personnel this way, but we're saving the cost of lodging, food and the miscellaneous expenses of taking people away from their jobs for extended in-plant training".
Control Data PLATO is solving the tough training problems in many other industries
By simulating cockpit systems on a PLATO terminal, American Airlines, for a portion of crew training, has cut a full day off its training schedule…and is saving thousands of dollars on crew training.
It costs about $4,000 an hour to use an actual airplane for pilot training. A flight simulator brings the cost down to $400 an hour. The cost of training with the PLATO system is less than $20 an hour… and the added convenience and quality comes as a bonus.
Some other business examples:
- Electric Utilities are using PLATO simulations for plant personnel training…to guard against human failure as well as mechanical failure.
- A Heavy Manufacturer is using the PLATO system to upgrade the product knowledge level and marketing techniques of its entire distributor organization.
- Banks are using PLATO-equipped Learning Centers to train tellers in banking procedures.
- Detroit Auto Makers are using PLATO's graphic design and structural analysis capabilities to build more space into smaller cars.
The PLATO system is more than an education and training tool. It is a means of managing information and simulating real-life situations. You don't identify PLATO advantages by what it has done for others. You do it by examining what the PLATO system can do to solve your own unique training problems.
And we'd like to help you do just that, with an interview or private demonstration. To get started, write on your business letterhead to Control Data Education Co., HQNllI, P.O. BoxO, Minneapolis, MN 55440. Or call 612/853-7600.
CONTROL DATA CORPORATION
More than a computer company
---
Tag: