Descrizione del contenuto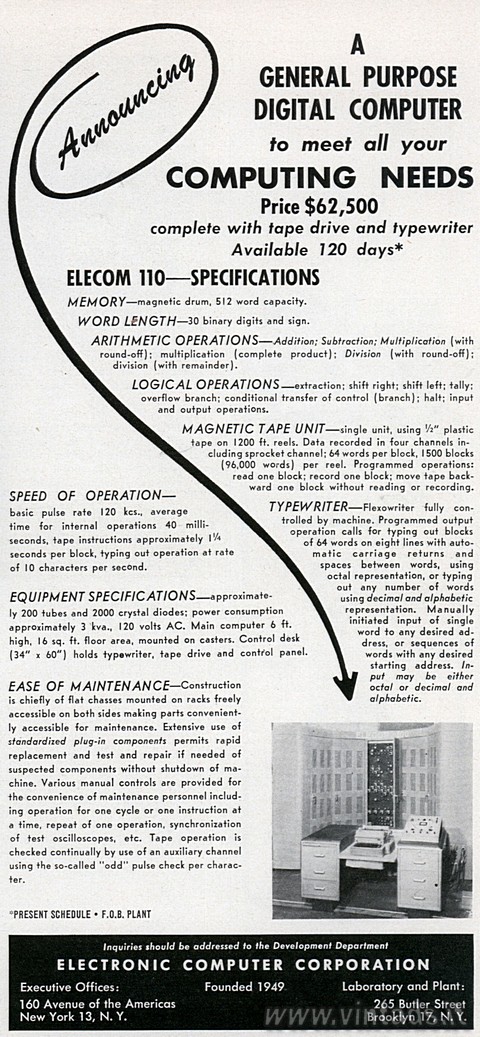 ---
Gradimento:





(0 voti)
---
Per scaricare questo contenuto devi fare login o registrarti
---
Commenti:
Non è presente alcun commento
Effettua il login per inserire un nuovo commento
Titolo:
Announcing a general purpose digital computer
---
Dimensione file:
881 KB (1473x3182 pixel)
---
Tipo del contenuto:
pagina di rivista o giornale
---
Fonte pubblicazione:
Scientific American
---
Data della fonte:
September 1952
---
Linguaggio:
en (English)
---
Marca del contenuto:
Electronic Computer Corporation
&nbsp
---
Caricato da:
Maverich
il 30-06-2020
---
Testo originale:
ANNOUNCING A GENERAL PURPOSE DIGITAL COMPUTER to meet all your COMPUTING NEEDS
Price $62,500
complete with tape drive and typewriter
Available 120 days*
ELECOM 110 - SPECIFICATIONS
MEMORY-magnetic drum, 512 word capacity.
WORD LENGTH-30 binary digits and sign.
ARITHMETIC OPERATIONS-Addition; Subtraction; Multiplication (with round-off); multiplication (complete product); Division (with round-off); division (with remainder).
LOGICAL OPERATIONS- extraction; shift right; shift left; tally; overflow branch; conditional transfer of control (branch); halt; input and output operations.
MAGNETIC TAPE UNIT -single unit, using 1/2″ plastic tape on 1200 ft. reels. Data recorded in four channels including sprocket channel; 64 words per block, 1500 blocks (96,000 words) per reel. Programmed operations: read one block; record one block; move tape backward one block without reading or recording.
TYPEWRITER-Flexowriter fully controlled by machine. Programmed output operation calls for typing out blocks of 64 words on eight lines with automatic carriage returns and spaces between words, using octal representation, or typing out any number of words using decimal and alphabetic representation. Manually initiated input of single word to any desired address, or sequences of words with any desired starting address, Input may be either octal or decimal and alphabetic.
SPEED OF OPERATION- basic pulse rate 120 kcs., average time for internal operations 40 milliseconds, tape instructions approximately 1-1/4 seconds per block, typing out operation at rate of 10 characters per second.
EQUIPMENT SPECIFICATIONS-approximately 200 tubes and 2000 crystal diodes; power consumption approximately 3 kva., 120 volts AC. Main computer 6 ft. high, 16 sq. ft. floor area, mounted on casters. Control desk (34″ x 60″) holds typewriter, tape drive and control panel.
EASE OF MAINTENANCE – Construction is chiefly of flat chasses mounted on racks freely accessible on both sides making parts conveniently accessible for maintenance. Extensive use of standardized plug-in components permits rapid replacement and test and repair if needed of suspected components without shutdown of machine. Various manual controls are provided for the convenience of maintenance personnel including operation for one cycle or one instruction at a time, repeat of one operation, synchronization of test oscilloscopes, etc. Tape operation is checked continually by use of an auxiliary channel using the so-called "odd" pulse check per character.
Inquiries should be addressed to the Development Department
ELECTRONIC COMPUTER CORPORATION
Founded 1949
Executive Offices:
160 Avenue of the Americas
New York 13, N. Y.
Laboratory and Plant:
265 Butler Street
Brooklyn 17 N. Y.
---
Tag: