Descrizione del contenuto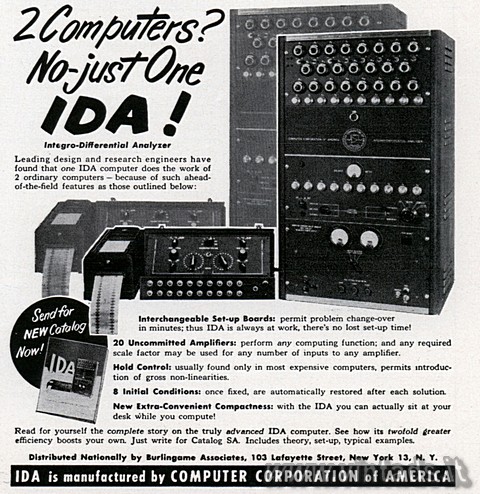 ---
Gradimento:





(0 voti)
---
Per scaricare questo contenuto devi fare login o registrarti
---
Commenti:
Non è presente alcun commento
Effettua il login per inserire un nuovo commento
Titolo:
2 Computers? No-Just One, IDA
---
Dimensione file:
522 KB (1495x1539 pixel)
---
Tipo del contenuto:
pagina di rivista o giornale
---
Fonte pubblicazione:
Scientific American
---
Data della fonte:
September 1952
---
Linguaggio:
en (English)
---
Marca del contenuto:
Computer Corporation Of America
&nbsp
---
Caricato da:
Maverich
il 30-06-2020
---
Testo originale:
2 Computers? No-Just One
IDA!
Integro-Differential Analyzer
Leading design and research engineers have found that one IDA computer does the work of 2 ordinary computers - because of such ahead-of-the-field features as those outlined below:
-Interchangeable Set-up Boards: permit problem change-over in minutes; thus IDA is always at work, there's no lost set-up time!
-20 Uncommitted Amplifiers: perform any computing function; and any required scale factor may be used for any number of inputs to any amplifier.
-Hold Control: usually found only in most expensive computers, permits introduction of gross non-linearities.
-8 Initial Conditions: once fixed, are automatically restored after each solution.
-New Extra-Convenient Compactness: with the IDA you can actually sit at your desk while you compute!
Read for yourself the complete story on the truly advanced IDA computer. See how its twofold greater efficiency boosts your own. Just write for Catalog SA. Includes theory, set-up, typical examples.
Distributed Nationally by Burlingome Associates, 103 Lafayette Street, New York 13, N. Y.
IDA is manufactured by COMPUTER CORPORATION of AMERICA
---
Tag: