Descrizione del contenuto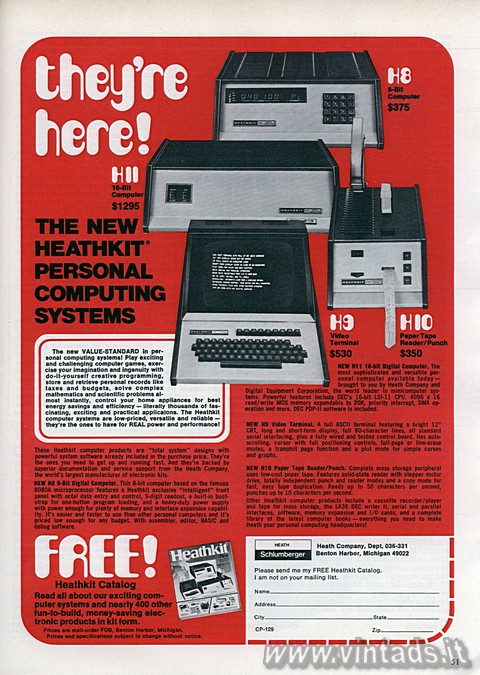 ---
Gradimento:





(0 voti)
---
Per scaricare questo contenuto devi fare login o registrarti
---
Commenti:
Non è presente alcun commento
Effettua il login per inserire un nuovo commento
Titolo:
They're Here: Heathkit!
---
Dimensione file:
1,5 MB (2369x3333 pixel)
---
Tipo del contenuto:
pagina di rivista o giornale
---
Fonte pubblicazione:
Scientific American
---
Data della fonte:
September 1977
---
Linguaggio:
en (English)
---
Marca del contenuto:
Heath Company

&nbsp
---
Caricato da:
Maverich
il 30-06-2020
---
Testo originale:
They're Here!
THE NEW HEATHKIT PERSONAL COMPUTING SYSTEMS
H8: 8-bit Computer $375
H11: 16-bit Computer $1295
H9: Video Terminal $530
H10: Paper Tape Reader/Punch $350
The new VALUE-STANDARD in personal computing systems! Play exciting and challenging computer games, exercise your imagination and ingenuity with do-it-yourself creative programming, store and retrieve personal records like taxes and budgets, solve complex mathematics and scientific problems almost instantly, control your home appliances for best energy savings and efficiency - literally thousands of fascinating, exciting and practical applications. The Heathkit computer systems are low-priced, versatile and reliable - they're the ones to have for REAL power and performance!
These Heathkit computer products are "total system" designs with powerful system software already included in the purchase price. They're the ones you need to get up and running fast. And they're backed by superior documentation and service support from the Heath Company, the world's largest manufacturer of electronic kits.
NEW H8 8-Bit Digital Computer. This 8-bit computer based on the famous 8080A microprocessor features a Heathkit exclusive "intelligent" front panel with octal data entry and control, 9-digit readout, a built-in bootstrap for one-button program loading, and a heavy-duty power supply with power enough for plenty of memory and interface expansion capability. It's easier and faster to use than other personal computers and it's priced low enough for any budget. With assembler, editor, BASIC and debug software.
NEW H11 16-bit Digital Computer. The most sophisticated and versatile personal computer available today - brought to you by Heath Company and Digital Equipment Corporation, the world leader in minicomputer systems. Powerful features include DEC'S 16-bit LSI-11 CPU. 4096 x 16 read/write MOS memory expandable to 20K, priority interrupt, DMA operation and more. DEC PDP-11 software is included.
NEW H9 Video Terminal. A full ASCII terminal featuring a bright 12″ CRT, long and short-form display, full 80-character lines, all standard serial interfacing, plus a fully wired and tested control board. Has auto-scrolling, cursor with full positioning controls, full-page or line-erase modes, a transmit page function and a plot mode for simple curves and graphs.
NEW H10 Paper Tape Reader/Punch. Complete mass storage peripheral uses low-cost paper tape. Features solid-state reader with stepper motor drive, totally independent punch and reader modes and a copy mode for fast, easy tape duplication. Reads up to 50 characters per second, punches up to 10 characters per second.
Other Heathkit computer products include a cassette recorder/player and tape for mass storage, the LA36 DEC writer II, serial and parallel interfaces, software, memory expansion and I/O cards, and a complete library of the latest computer books - everything you need to make Heath your personal computing headquarters!
Free Heathkit Catalog
Read all about our exciting computer systems and nearly 400 other fun-to-build, money-saving electronic products in kit form.
Prices are mail-order FOB, Benton Harbor, Michigan. Prices and specifications subject to change without notice.
---
Tag: