Descrizione del contenuto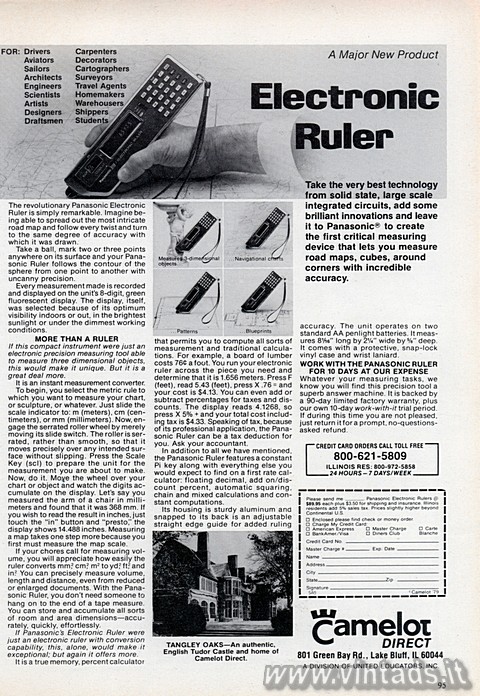 ---
Gradimento:





(0 voti)
---
Per scaricare questo contenuto devi fare login o registrarti
---
Commenti:
Non è presente alcun commento
Effettua il login per inserire un nuovo commento
Titolo:
Panasonic Electronic Ruler
---
Dimensione file:
1,5 MB (2293x3326 pixel)
---
Tipo del contenuto:
pagina di rivista o giornale
---
Fonte pubblicazione:
Scientific American
---
Data della fonte:
September 1979
---
Linguaggio:
en (English)
---
Marca del contenuto:
Panasonic

&nbsp
---
Caricato da:
Maverich
il 30-06-2020
---
Testo originale:
Electronic Ruler
Take the very best technology from solid state, large scale integrated circuits, add some brilliant innovations and leave it to Panasonic® to create the first critical measuring device that lets you measure road maps, cubes, around corners with incredible accuracy.
FOR: Drivers, Aviators, Sailors, Architects, Engineers, Scientists, Artists, Designers, Draftsmen, Carpenters, Decorators, Cartographers, Surveyors, Travel Agents Homemakers, Warehousers, Shippers, Students.
The revolutionary Panasonic Electronic Ruler is simply remarkable. Imagine being able to spread out the most intricate road map and follow every twist and turn to the same degree of accuracy with which it was drawn.
Take a ball, mark two or three points anywhere on its surface and your Panasonic Ruler follows the contour of the sphere from one point to another with uncanny precision.
Every measurement made is recorded and displayed on the unit's 8-digit, green fluorescent display. The display, itself, was selected because of its optimum visibility indoors or out, in the brightest sunlight or under the dimmest working conditions.
MORE THAN A RULER
If this compact instrument were just an electronic precision measuring tool able to measure three dimensional objects, this would make it unique. But it is a great deal more.
It is an instant measurement converter.
To begin, you select the metric rule to which you want to measure your chart, or sculpture, or whatever. Just slide the scale indicator to: m (meters), cm (centimeters), or mm (millimeters). Now, engage the serrated roller wheel by merely moving its slide switch. The roller is serrated, rather than smooth, so that it moves precisely over any intended surface without slipping. Press the Scale Key (scl) to prepare the unit for the measurement you are about to make. Now, do it. Move the wheel over your chart or object and watch the digits accumulate on the display. Let's say you measured the arm of a chair in millimeters and found that it was 368 mm. If you wish to read the result in inches, just touch the "in" button and "presto," the display shows 14.488 inches. Measuring a map takes one step more because you first must measure the map scale.
If your chores call for measuring volume, you will appreciate how easily the ruler converts mm, cm, m to yd, ft, and in. You can precisely measure volume, length and distance, even from reduced or enlarged documents. With the Panasonic Ruler, you don't need someone to hang on to the end of a tape measure. You can store and accumulate all sorts of room and area dimensions—accurately, quickly, effortlessly.
If Panasonic's Electronic Ruler were just an electronic ruler with conversion capability, this, alone, would make it exceptional; but again it offers more.
It is a true memory, percent calculator that permits you to compute all sorts of measurement and traditional calculations. For example, a board of lumber costs 76c a foot. You run your electronic ruler across the piece you need and determine that it is 1.656 meters. Press F (feet), read 5.43 (feet), press X .76 = and your cost is $4.13. You can even add or subtract percentages for taxes and discounts. The display reads 4.1268, so press X 5% + and your total cost including tax is $4.33. Speaking of tax, because of its professional application, the Panasonic Ruler can be a tax deduction for you. Ask your accountant.
In addition to all we have mentioned, the Panasonic Ruler features a constant Pi key along with everything else you would expect to find on a first rate calculator: floating decimal, add on/discount percent, automatic squaring, chain and mixed calculations and constant computations.
Its housing is sturdy aluminum and snapped to its back is an adjustable straight edge guide for added ruling accuracy. The unit operates on two standard AA penlight batteries. It measures 8-1/16″ long by 2-1/4″ wide by 5/8″ deep. It comes with a protective, snap-lock vinyl case and wrist laniard.
WORK WITH THE PANASONIC RULER FOR 10 DAYS AT OUR EXPENSE
Whatever your measuring tasks, we know you will find this precision tool a superb answer machine. It is backed by a 90-day limited factory warranty, plus our own 10-day work-with-it trial period. If during this time you are not pleased, just return it for a prompt, no-questions-asked refund.
CREDIT CARD ORDERS CALL TOLL FREE
800-621-5809
ILLINOIS RES: 800-972-5858
24 HOURS – 7 DAYS/WEEK
Camelot DIRECT
801 Green Bay Rd., Lake Bluff, IL 60044
A DIVISION OF UNITED EDUCATORS. INC
---
Tag: