Descrizione del contenuto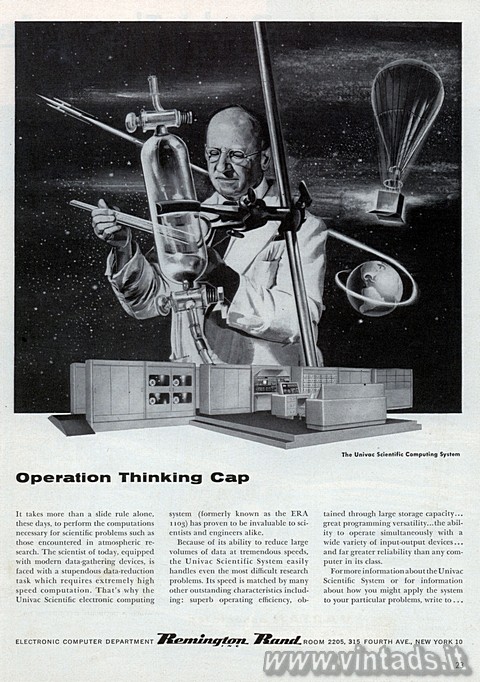 ---
Gradimento:





(0 voti)
---
Per scaricare questo contenuto devi fare login o registrarti
---
Commenti:
Non è presente alcun commento
Effettua il login per inserire un nuovo commento
Titolo:
Operation Thinking Cap
---
Dimensione file:
1,7 MB (2296x3262 pixel)
---
Tipo del contenuto:
pagina di rivista o giornale
---
Fonte pubblicazione:
Scientific American
---
Data della fonte:
1954-12
---
Linguaggio:
en (English)
---
Marca del contenuto:
Era
,
Remington Rand
&nbsp
&nbsp
---
Caricato da:
Maverich
il 30-06-2020
---
Testo originale:
Operation Thinking Cap
The UNIVAC scientific computing system
It takes more than a slide rule alone, these days, to perform the computations necessary for scientific problems such as those encountered in atmospheric research. The scientist of today, equipped with modern data-gathering devices, is faced with a stupendous data-reduction task which requires extremely high speed computation. That's why the Univac Scientific electronic computing system (formerly known as the ERA 1103) has proven to be invaluable to scientists and engineers alike.
Because of its ability to reduce large volumes of data at tremendous speeds, the Univac Scientific System easily handles even the most difficult research problems. Its speed is matched by many other outstanding characteristics including: superb operating efficiency, obtained through large storage capacity… great programming versatility…the ability to operate simultaneously with a wide variety of input-output devices… and far greater reliability than any computer in its class.
For more information about the Univac Scientific System or for information about how you might apply the system to your particular problems, write to …
ELECTRONIC COMPUTER DEPARTMENT
Remington Rand Inc.
ROOM 2205, 315 FOURTH AVE., NEW YORK 10
---
Tag:
univac,era 1103,remington rand