Descrizione del contenuto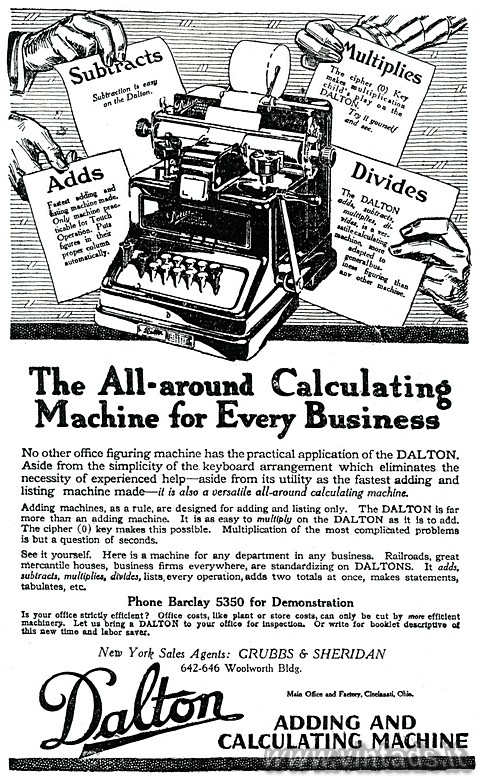 ---
Gradimento:





(0 voti)
---
Per scaricare questo contenuto devi fare login o registrarti
---
Commenti:
Non è presente alcun commento
Effettua il login per inserire un nuovo commento
Titolo:
The all-around calculating machine for every business
---
Dimensione file:
1,4 MB (2518x4088 pixel)
---
Tipo del contenuto:
pagina di rivista o giornale
---
Fonte pubblicazione:
New york Times
---
Data della fonte:
29 October 1918
---
Linguaggio:
en (English)
---
Marca del contenuto:
Dalton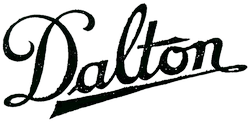 &nbsp
---
Caricato da:
Maverich
il 17-07-2021
---
Testo originale:
The All-around Calculating Machine for Every Business
No other office figuring machine has the practical application of the DALTON. Aside from the simplicity of the keyboard arrangement which eliminates the necessity of experienced help – aside from its utility as the fastest adding and listing machine made – it is also a versatile all-around calculating machine.
Adding machines, as a rule, are designed for adding and listing only. The DALTON is far more than an adding machine. It is as easy to multiply on the DALTON as it is to add. The cipher (0) key makes this possible. Multiplication of the most complicated problems is but a question of seconds.
See it yourself. Here is a machine for any arrangement in any business. Railroads, great mercantile houses, business firms everywhere, are standardizing on DALTONS. It adds, subtracts, multiplies, divides, lists, every operations, adds two totals at once, makes statements, tabulates, etc.
Phone Barclay 5350 for Demonstration
Is your office strictly efficient? Office costs, like plant or store costs, can only be cut by more efficient machinery. Let us bring a DALTON to your office for inspections. Or write for booklet descriptive of this new time and labor saver.
New York Sales Agents: GRUBSS & SHERIDAN
642-646 Woolworth Bldg.
Dalton Main Office and Factory, Cincinati [sic], Ohio
ADDING AND CALCULATING MACHINE
---
Tag: