Descrizione del contenuto
(PDF MULTIPAGINA)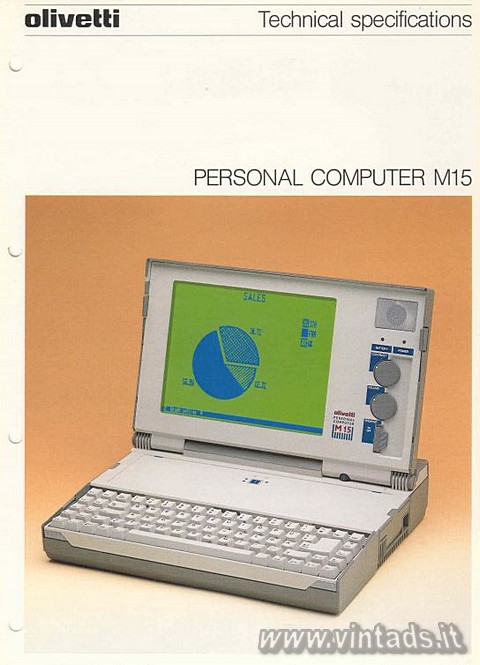 ---
---
Gradimento:





(0 voti)
---
Per scaricare questo contenuto devi fare login o registrarti
---
Commenti:
Non è presente alcun commento
Effettua il login per inserire un nuovo commento
Titolo:
olivetti PERSONAL COMPUTER M15
---
Dimensione file:
2,3 MB (4 pagine
PDF MULTIPAGINA
)
---
Tipo del contenuto:
brochure o inserto staccato
---
Data della fonte:
May 1987
---
Linguaggio:
en (English)
---
Marca del contenuto:
Olivetti

&nbsp
---
Caricato da:
Maverich
il 31-10-2014
---
Testo originale:
olivetti
Technical specifications
PERSONAL COMPUTER M15
The Olivetti M15 portable Personal Computer is the answer to your computing problems even when you are out of the office.
* A truly portable PC both in weight and size
* Professional performance O A complete standard configuration
* Dual compatibility (3.5" and 5.25" floppy disks)
* Dual power supply (from mains or rechargeable batteries)
* Ergonomic design.
Although small in size, the M15 is a true professional Personal Computer,
Thanks to the new advanced technology - Surface Mounted Device - it has been possible to design a portable, compact Personal Computer that still has the performance of a desk-top PC.
Since either 3.5" or 5.25" floppy disks can be used, total compatibility with industry standards is guaranteed, thus enabling you to interchange jobs on the M15 with any other industry standard PC. The M15's central processing unit is the CMOS Intel 80088 and the operating system is MS-DOS 3.2 - the most recent MS-DOS release which, as well as allowing simultaneous management of two different format drives, capitalizes fully on the M15's potential.
In other words, with the' dual compatibility feature, the M15 can exploit the dual software library (3.5" and 5.25") developed for the MS-DOS standard. You can continue to run alt the programs you use in your office on this portable PC, which has 512 K memory as standard.
The M15 offers you a detachable, professional keyboard with 78 keys, 10 function keys and an integrated numeric pad, and is available in different national layouts.
The antiglare, tiltable display is the largest LCD used in Personal Computers and features a standard 25 line x 80 character format.
Graphic resolution is 640x200 pixels. Since different "shades of grey" can be displayed, software compatibility is guaranteed.
Inside the M15 there are two disk drives for 720 K 3.5" minifloppy disks.
Externally the M15 can be connected to a 5.25" floppy disk drive, thus enabling data and programs also to be transferred to systems with different disk formats. The dual power supply - mains or batteries - increases the portability of the M15. In fact, the rechargeable batteries ensure total independence for 6 hours. Recharging, via the external power supply unit connected to the mains, can be carried out with the system either on or off.
Connection to any type of printer or peripheral unit, the interfaces supplied as standard is ensured by the interfaces supplied as standard in the basic configuration: RS 232 C and CCITT V24 serial interface for asynchronous communication and Centronics parallel for printers.
From the ergonomic point of view, every effort has been made to ensure that you can work in comfort wherever you are.
GENERAL CHARACTERISTICS
* CPU INTEL 80088 (CMOS Version) - speed 4,77 MHz
* ROM 16 KB
* RAM 512 KB (NMOS Version)
* FDU 2x720 KB - 3.5" slim size minifloppy disk units
* detachable 78 key keyboard
* LCD display (80 columns x 25 rows)
* TTY serial interface (RS 232 CN24) O parallel interface (Centronics)
* interface for external FDU
* battery backed clock/calendar.
Power source
* rechargeable battery pack (6 hours life in normal use)
* AC universal power supply
* carrying case.
GENERAL OPTION
* external self-powered 5.25" FDU.
BASIC UNIT CPU
* 16 bit 80088 (CMOS)
— clock speed: 4.77 MHz
— memory access time: 200 ns
* 8 bit internal bus
* DMA controller.
Memory
* 16 KB ROM BIOS with automatic power-on diagnostic for main system function control
* 512 KB RAM (NMOS).
Interfaces
* Serial (RS 232 C, CCITT V24) for peripherals and asynchronous communications. Transmission rate is software selectable from 75 to 9600 baud
* 8 bit parallel (Centronics) for printer connection
* external FDU interface.
Integrated mass storage device
* 2x720 KB minifloppy disk units
— 3.5" double sided, double track, double density, 135 tpi
— number of tracks: 80 sectors per track: 9
— average access time: 100 ms transfer speed: 250 Kbits/sec
— track to track access time: 3 ms.
KEYBOARD
* detachable keyboard with the following characteristics:
- 78 keys
- 10 function keys
- integrated number pad -- acoustic feedback
- ergonomic n-key rollover
- LED indicators for "caps" and "num" lock
- national versions.
DISPLAY
The M15 display is the largest and clearest liquid crystal display available in the market. Its characteristics are as follows:
- antiglare
- tiltable
- size: 10.5" aspect ratio: 2.4:1
- text resolution: 80x25 (40x25) columns x rows
- graphic resolution: 640x200 (320x200) pixel character font: 8x8 dots
- shades of grey.
Power sources
The M15 has a dual power source, allowing it to be used anywhere.
- rechargeable battery pack
- 6 hour battery life
- rechargeable via the external power supply
- rechargeable with the system "ON" or "OFF"
- recharge time: 8 hours
- LED "battery low" indicator
- external universal AC power supply 90-264 V, 50-6.0 Hz
- national connector plugs.
Carrying case
A handy carry case is supplied with each M15, which will also hold floppy disks, ext. power supply, manuals, cables, personal documents, etc.
EXPANSION OPTIONS
An external self-powered 5.25" FDU may be connected, allowing the M15 to access the entire library of software available for 5,25" disk format. This unit works concurrently with the integrated 3.5" drives.
External FDU characteristics:
* double sided double density 5.25" FDD
* capacity: 500 KB non-formatted, 360 KB formatted
* number of tracks; 40 per tracks per side
* number of sectors: 9 per track O transfer rate: 250 Kbit/sec
* tracks per inch: 48 tpi.
PRINTERS
Olivetti offers a range of printers to satisfy different users' needs.
* daisy wheel, dot matrix
* speed: 25 - 220 cps
* matrix 9x7, 9x9, 12x7, 12x8
* graphic and semi-graphic
* mono and colour
* interfaces:
- parallel (Centronics)
- serial (RS 232 C).
Operating system
* MS-DOS (ver 3.2).
Languages and tools
* GW BASIC
* ISAM
* SORTP.
Dimensions and weight
System:
Width: 350 mm Height: 70 mm Depth: 276 mm Weight; 5.2 kg
5.25" ext. FDU: Width; 225 mm Height: 71 mm Depth: 272 mm
AC power supply: Width: 180 mm Height: 45 mm Depth; 80 mm
Environmental conditions
Temperature:
* system on: 10 - 40° C
* system off: -20 / +55° C.
Humidity:
* system on; 20 - 80% RH
* system off: 8 - 85% RH.
MS-DOS is a trademark of Microsoft Inc.
olivetti
---
Testo tradotto:
olivetti
PERSONAL COMPUTER M15
Specifiche tecniche
->continua->
---
Tag: