Descrizione del contenuto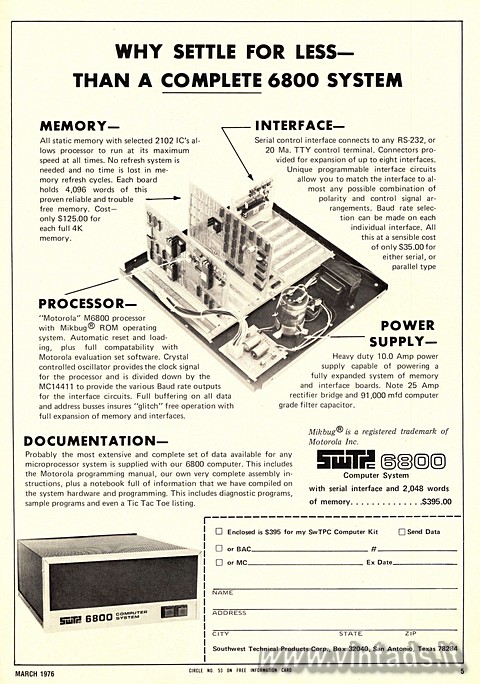 ---
Gradimento:





(0 voti)
---
Per scaricare questo contenuto devi fare login o registrarti
---
Commenti:
Non è presente alcun commento
Effettua il login per inserire un nuovo commento
Titolo:
Why settle for less-than a complete 6800 system
---
Dimensione file:
1,3 MB (2235x3185 pixel)
---
Tipo del contenuto:
pagina di rivista o giornale
---
Fonte pubblicazione:
sconosciuta
---
Data della fonte:
March 1976
---
Linguaggio:
en (English)
---
Marca del contenuto:
Swtpc

&nbsp
---
Caricato da:
darkLady
il 14-11-2014
---
Testo originale:
WHY SETTLE FOR LESS-THAN A COMPLETE 6800 SYSTEM
MEMORY
All static memory with selected 2102 IC's allows processor to run at its maximum speed at all times. No refresh system is needed and no time is lost in memory refresh cycles. Each board holds 4,096 words of this
proven reliable and trouble free memory. Cost—only $125.00 for each full 4K memory.
INTERFACE
Serial control interface connects to any RS-232, or 20 Ma. TTY control terminal. Connectors provided for expansion of up to eight interfaces. Unique programmable interface circuits allow you to match the interface to almost any possible combination of polarity and control signal arrangements. Baud rate selection can be made on each individual interface. All this at a sensible cost of only $35.00 for either serial, or parallel type
PROCESSOR
"Motorola" M6800 processor with Mikbug® ROM operating system. Automatic reset and loading, plus full compatability with Motorola evaluation set software. Crystal controlled oscillator provides the clock signal for the processor and is divided down by the MC14411 to provide the various Baud rate outputs for the interface circuits. Full buffering on all data and address busses insures "glitch" free operation with full expansion of memory and interfaces.
POWER SUPPLY
Heavy duty 10.0 Amp power supply capable of powering a fully expanded system of memory and interface boards. Note 25 Amp rectifier bridge and 91,000 mfd computer grade filter capacitor.
DOCUMENTATION
Probably the most extensive and complete set of data available for any microprocessor system is supplied with our 6800 computer. This includes the Motorola programming manual, our own very complete assembly instructions, plus a notebook full of information that we have compiled on the system hardware and programming. This includes diagnostic programs, sample programs and even a Tic Tac Toe listing.
Mikbug® is a registered trademark of Motorola Inc.
SWTPC 6800
Computer System
with serial interface and 2,048 words of memory $395.00
---
Testo tradotto:
Perché accontentarsi di meno-rispetto ad un sistema completo 6800
->continua->
---
Tag: