TRS-80 Model 4 Now Cut $700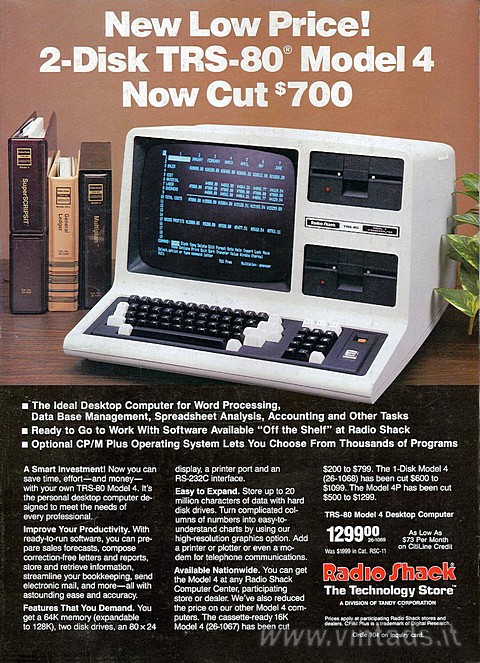 ---
Gradimento:





(0 voti)
---
Per scaricare questo contenuto devi fare login o registrarti
---
Commenti:
Non è presente alcun commento
Effettua il login per inserire un nuovo commento
---
Titolo:
TRS-80 Model 4 Now Cut $700
---
Dimensione file:
895 KB (1438x1985 pixel)
---
Tipo del contenuto:
pagina di rivista o giornale
---
Fonte pubblicazione:
sconosciuta
---
Data della fonte:
October 1984
---
Linguaggio:
en (English)
---
Marca del contenuto:
Tandy Radio Shack

&nbsp
---
Caricato da:
Maverich
il 17-11-2014
---
Testo originale:
New Low Price!
2-disk TRS-80 Model 4 Now Cut $700
The Ideal Desktop Computer for Word Processing, Data Base Management, Spreadsheet Analysis, Accounting and Other Tasks
Ready to Go to Work With Software Available "Off the Shelf" at Radio Shack
Optional CP/M Plus Operating System Lets You Choose From Thousands of Programs
A Smart Investment! Now you can save time, effort—and money—with your own TRS-80 Model 4. It's the personal desktop computer designed to meet the needs of every professional.
Improve Your Productivity. With ready-to-run software, you can prepare sales forecasts, compose correction-free letters and reports, store and retrieve information, streamline your bookkeeping, send electronic mail, and more—all with astounding ease and accuracy.
Features That You Demand. You get a 64K memory (expandable to 128K), two disk drives, an 80 x 24 display, a printer port and an RS-232C interface.
Easy to Expand. Store up to 20 million characters of data with hard disk drives. Turn complicated columns of numbers into easy-to-understand charts by using our high-resolution graphics option. Add a printer or plotter or even a modem for telephone communications.
Available Nationwide. You can get the Model 4 at any Radio Shack Computer Center, participating store or dealer. We've also reduced the price on our other Model 4 computers. The cassette-ready 16K Model 4 (26-1067) has been cut $200 to $799. The 1-Disk Model 4 (26-1068) has been cut $600 to $1099. The Model 4P has been cut $500 to $1299.
TRS-80 Model 4 Desktop Computer $ 1,299.00
As Low As $73 Per Month on CitiLine Credit
Radio Shack
The Technology Store
A DIVISION OF TANDY CORPORATION
Prices apply at participating Radio Shack stores and dealers. CP/M Plus is a trademark of Digital Research.
---
Testo tradotto:
Nuovo ribasso!
TRS-80 modello 4 a due dischi ribassato di $700
->continua->
---
Tag: