Descrizione del contenuto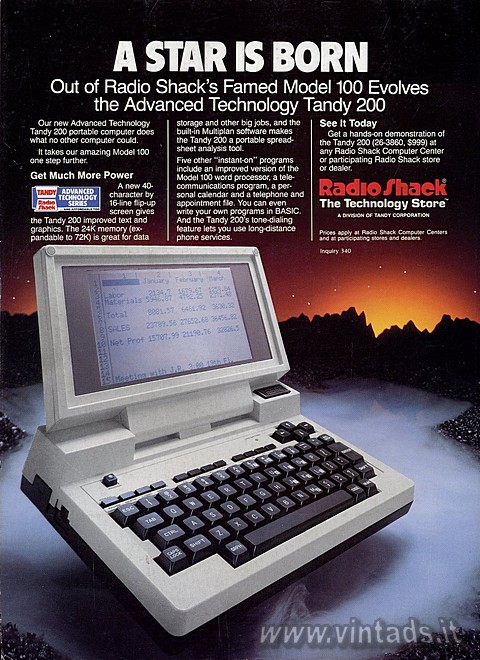 ---
Gradimento:





(0 voti)
---
Per scaricare questo contenuto devi fare login o registrarti
---
Commenti:
Non è presente alcun commento
Effettua il login per inserire un nuovo commento
Titolo:
A STAR IS BORN
---
Dimensione file:
344 KB (929x1277 pixel)
---
Tipo del contenuto:
pagina di rivista o giornale
---
Fonte pubblicazione:
sconosciuta
---
Data della fonte:
1985-03
---
Linguaggio:
en (English)
---
Marca del contenuto:
Tandy Radio Shack

&nbsp
---
Caricato da:
Maverich
il 17-11-2014
---
Testo originale:
A STAR IS BORN
Out of Radio Shack's Famed Model 100 Evolves the Advanced Technology Tandy 200
Our new Advanced Technology Tandy 200 portable computer does what no other computer could.
It takes our amazing Model 100 one step further.
Get Much More Power
A new 40 character by 16-line flip-up screen gives the Tandy 200 improved text and graphics. The 24K memory (expandable to 72K) is great for data storage and other big jobs, and the built-in Multiplan software makes the Tandy 200 a portable spreadsheet analysis tool.
Five other "instant-on" programs include an improved version of the Model 100 word processor, a telecommunications program, a personal calendar and a telephone and appointment file. You can even write your own programs in BASIC. And the Tandy 200's tone-dialing feature lets you use long-distance tone services.
See It Today
Get a hands-on demonstration of the Tandy 200 (26-3860, $999) at any Radio Shack Computer Center or participating Radio Shack store or dealer.
Radio Shack
The Technology Store
A DIVISION OF TANDY CORPORATION
Prices apply at Radio Shack Computer Centers and at participating stores and dealers.
---
Tag:
tandy,tandy trs-80 model 100,tandy 200,basic