Descrizione del contenuto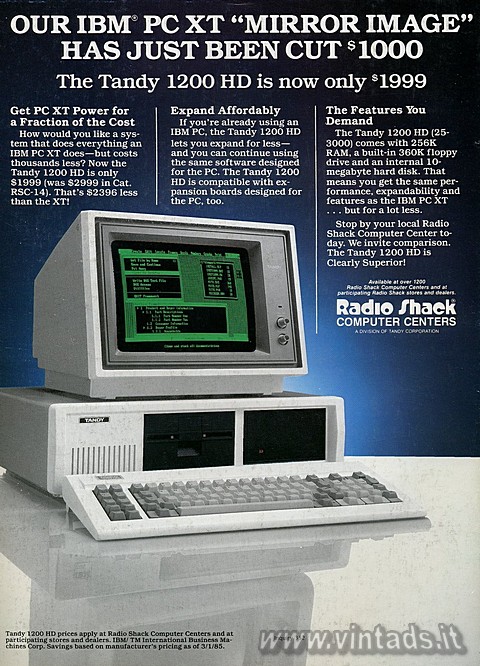 ---
Gradimento:





(0 voti)
---
Per scaricare questo contenuto devi fare login o registrarti
---
Commenti:
Non è presente alcun commento
Effettua il login per inserire un nuovo commento
Titolo:
OUR IBM® PC XT "MIRROR IMAGE"
---
Dimensione file:
343 KB (916x1270 pixel)
---
Tipo del contenuto:
pagina di rivista o giornale
---
Fonte pubblicazione:
sconosciuta
---
Data della fonte:
June 1985
---
Linguaggio:
en (English)
---
Marca del contenuto:
Tandy Radio Shack

&nbsp
---
Caricato da:
Maverich
il 17-11-2014
---
Testo originale:
OUR IBM® PC XT "MIRROR IMAGE" HAS JUST BEEN CUT $1000
The Tandy 1200 HD is now only $1999
Get PC XT Power for a Fraction of the Cost
How would you like a system that does everything an IBM PC XT does—but costs thousands less? Now the Tandy 1200 HD is only $1999 (was $2999 in Cat. RSC-14). That's $2396 less than the XT!
Expand Affordably
If you're already using an IBM PC, the Tandy 1200 HD lets you expand for less—and you can continue using the same software designed for the PC. The Tandy 1200 HD is compatible with expansion boards designed for the PC, too.
The Features You Demand
The Tandy 1200 HD (25-3000) comes with 256K RAM, a built-in 360K floppy drive and an internal 10-megabyte hard disk. That means you get the same performance, expandability and features as the IBM PC XT ... but for a lot less.
Stop by your local Radio Shack Computer Center today. We invite comparison. The Tandy 1200 HD is Clearly Superior!
Available at Over 1200 Radio Shack Computer Centers and at participating Radio Shack stores and dealers.
Radio Shack
COMPUTER CENTERS
A DIVISION OF TANDY CORPORATION
---
Testo tradotto:
La nostra "immagine allo specchio" del pc IBM è stata ribassata di $1000
->continua->
---
Tag: