Descrizione del contenuto
(TIFF MULTIPAGINA)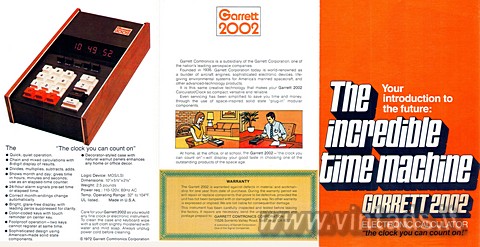 ---
---
Gradimento:





(0 voti)
---
Per scaricare questo contenuto devi fare login o registrarti
---
Commenti:
Non è presente alcun commento
Effettua il login per inserire un nuovo commento
Titolo:
GARRET 2002 Electronic Calculator
---
Dimensione file:
6,5 MB (2600x1340 pixel
TIFF MULTIPAGINA
)
---
Tipo del contenuto:
brochure o inserto staccato
---
Data della fonte:
1972
---
Linguaggio:
en (English)
---
Marca del contenuto:
Garrett
&nbsp
---
Caricato da:
VintAds
il 15-06-2015
---
Testo originale:
Your introduction to the future:
The incredible time machine
GARRET 2002 Electronic Calculator
"the clock you can count on!"
"The clock you can count on"
• Quick, quiet operation.
• Chain and mixed calculations with 8-digit display of results.
• Divides, multiplies, subtracts, adds.
• Shows month and day; gives time in hours, minutes and seconds; use as an elapsed-time counter.
• 24-hour alarm signals pre-set time or elapsed time.
• Correct month-endings change automatically.
• Bright, glare-free display, with leading zeros suppressed for clarity.
• Color-coded keys with touch reminder on center key.
• Foolproof operation—two keys cannot register at same time.
• Sophisticated design using American-made solid state components.
• Decorator-styled case with natural walnut panels enhances any home or office decor.
Logic Device: MOS/LSI
Dimensions: 10rx51/2"x21/4"
Weight: 2.5 pounds
Power req.: 110-120V, 60Hz AC
Temp. Operating Range: 32° to 104°F.
UL listed. Made in U.S.A.
Care for your Garrett 2002 as you would any fine clock or electronic instrument. To clean the case and keyboard wipe with a soft cloth slightly moistened with water and mild soap. Always unplug power cord before cleaning.
1972 Garrett Comtronics Corporation
Garrett 2002
Garrett Comtronics is a subsidiary of the Garrett Corporation, one of the nation's leading aerospace companies.
Founded in 1936. Garrett Corporation today is world-renowned as a builder of aircraft engines, sophisticated electronic devices, life-giving environmental systems for America's manned spacecraft, and other advanced-technology products.
It is this same creative technology that makes your Garrett 2002 Calculator/Clock so compact, versatile and reliable.
Even servicing has been simplified to save you time and money, through the use of space-inspired solid state "plug-in" modular components
At home, at the office, or at school, the Garrett 2002-"the clock you can count on"—will display your good taste in choosing one of the outstanding products of the space age
Figure your bank balance with an ease you never thought possible... push a button, and the date appears, another touch, and the time glows to life... program it to time your breakfast egg, or to remind you of an important meeting-and listen for the distinctive "beep-beep-beep" of its electronic alarm.
Incredible, yes.
But complicated? No.
The Garrett 2002 represents the latest technological advancements in electronics, yet it is as easy to operate as an electric typewriter.
Simply familiarize yourself with the keyboard. Then try the sample operations shown on these pages. You'll find - in seconds-that you can do complex calculations that once took many minutes to perform. And in a few moments you'll discover that you have at your fingertips one of the truly unique timekeeping devices of the space age.
---
Testo tradotto:
Il tuo ingresso nel futuro:
L'incredibile macchina del tempo
Calcolatrice elettronica Garrett 2002
"l'orologio su cui puoi contare"
->continua
---
Tag: