Descrizione del contenuto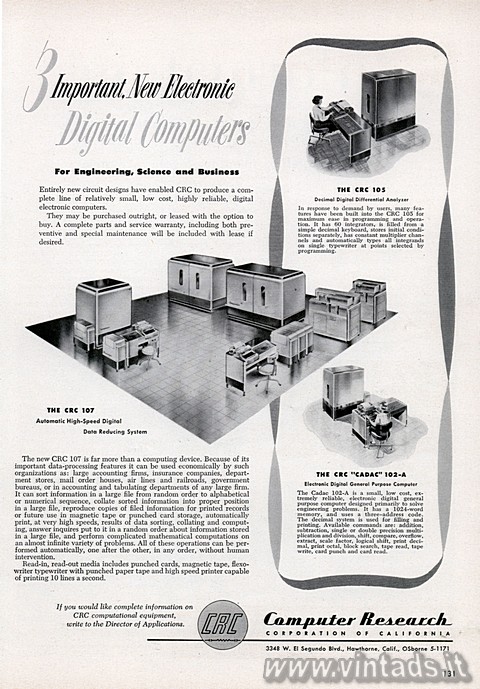 ---
Gradimento:





(0 voti)
---
Per scaricare questo contenuto devi fare login o registrarti
---
Commenti:
Non è presente alcun commento
Effettua il login per inserire un nuovo commento
Titolo:
3 Important, New Electronic Digital Computers
---
Dimensione file:
1,4 MB (2347x3367 pixel)
---
Tipo del contenuto:
pagina di rivista o giornale
---
Fonte pubblicazione:
Scientific American
---
Data della fonte:
September 1952
---
Linguaggio:
en (English)
---
Marca del contenuto:
Crc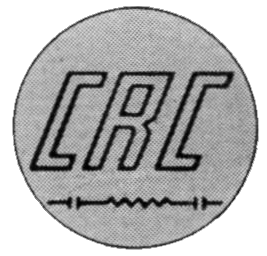 &nbsp
---
Caricato da:
Maverich
il 30-06-2020
---
Testo originale:
3 Important, New Electronic Digital Computers
For Engineering, Science and Business
Entirely new circuit designs have enabled CRC to produce a complete line of relatively small, low cost, highly reliable, digital electronic computers.
They may be purchased outright, or leased with the option to buy. A complete parts and service warranty, including both preventive and special maintenance will be included with lease if desired.
THE CRC 105
Decimal Digital Differential Analyzer
In response to demand by users, many features have been built into the CRC 105 for maximum ease in programming and operation. It has 60 integrators, is filled from a simple decimal keyboard, stores initial conditions separately, has constant multiplier channels and automatically types all integrands on single typewriter at points selected by programming.
THE CRC "CADAC" 102-A
Electronic Digital General Purpose Computer
The Cadac 102-A is a small, low cost, extremely reliable, electronic digital general purpose computer designed primarily to solve engineering problems. It has a 1024-word memory, and uses a three-address code. The decimal system is used for filling and printing. Available commands are: addition, subtraction, single or double precision multiplication and division, shift, compare, overflow, extract, scale factor, logical shift, print decimal, print octal, block search, tape read, tape write, card punch and card read.
THE CRC 107
Automatic High-Speed Digital Data Reducing System
The new CRC 107 is far more than a computing device. Because of its important data-processing features it can be used economically by such organizations as: large accounting firms, insurance companies, department stores, mail order houses, air lines and railroads, government bureaus, or in accounting and tabulating departments of any large firm. It can sort information in a large file from random order to alphabetical or numerical sequence, collate sorted information into proper position in a large file, reproduce copies of filed information for printed records or future use in magnetic tape or punched card storage, automatically print, at very high speeds, results of data sorting, collating and computing, answer inquires put to it in a random order about information stored in a large file, and perform complicated mathematical computations on an almost infinite variety of problems. All of these operations can be performed automatically, one after the other, in any order, without human intervention.
Read-in, read-out media includes punched cards, magnetic tape, flexo-writer typewriter with punched paper tape and high speed printer capable of printing 10 lines a second.
If you would like complete information on CRC computational equipment, write to the Director of Applications.
CRC
COMPUTER RESEARCH CORPORATION OF CALIFORNIA
3348 W. El Segundo Blvd., Hawthorne, Calif., OSborne 5-1171
---
Tag: